Put & Take Trout Stocking Program
The following list of lakes, reservoirs and ponds identifies sites that are frequently stocked with trout. Waterbodies listed below are open all year and possession limits follow the Province-wide maximum possession limits. Bait is allowed.

Provincial Regulations for Put and Take Stocked Lakes
● OPEN all year
● Bait is allowed
● 5 trout of any size
● 3 Northern Pike of any size
● 15 Yellow Perch of any size
● For other species, see Provincewide Maximum Possession Limits.

Some stocked waterbodies are managed as Quality Stocked Fisheries and have specific regulations. These waterbodies are listed in the Watershed Units' regulation tables.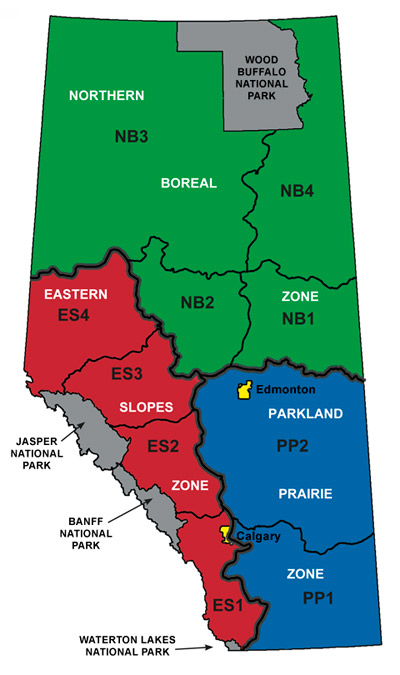 ---
Eastern Slopes Zone - Watershed Unit ES1
Allison Lake (SW 27-8-5-W5)
Bathing Lake (SE 11-4-1-W5)
Beauvais Lake (SW 29-5-1-W5)
Beaver Mines Lake (NE 11-5-3-W5)
Burmis Lake (SE 14-7-3-W5)
Burn's Reservoir (NE 23-6-30-W4)
Butcher's Lake (NW 15-4-1-W5)
Chain Lakes Reservoir (NE 4-15-2-W5)
Coleman Fish And Game Pond (SW 24-8-5-W5)
Cottonwood Lake (SE 16-7-29-W4)
Crossfield Trout Pond (SE 27-28-1-W5)
Dewitt's Pond (SE 31-26-1-W5)
Emerald Lake (SE 8-8-5-W5)

Granum Pond (NW 31-10-26-W4)
Grotto Mountain Pond (NW 21-24-9-W5)
Island Lake (SE 12-8-6-W5)
Lees Lake (SW 8-7-2-W5)
Little Beaverdam Lake (SE 34-1-28-W4)
Margaret Lake (NW 15-28-9-W5)
Mclean Pond (NW 20-22-5-W5)
Mitford Ponds (SE 4-26-4-W5)
Nose Creek Pond (NE 1-27-1-W5)
Payne Lake (NE 10-2-28-W4)
Sibbald Lake (NE 14-24-7-W5)
Sibbald Meadows Pond (SW 20-24-7-W5)

---
Eastern Slopes Zone - Watershed Unit ES2
Alford Lake (SW 4-36-8-W5)
Brazeau Borrow Pit #1 (SE 32-45-10-W5)
Brazeau Borrow Pit #2 (SW 2-46-11-W5)
Camp 9 Trout Pond (NE 32-44-8-W5)
Dickson Trout Pond (NW 13-35-3-W5)
Elk Creek Pond (NW 33-35-12-W5)
Goldeye Lake (NE 14-40-16-W5)
Harleck Pond (SE 5-41-14-W5)
Mitchell Lake (NE 25-37-8-W5)
Nordegg Borrow Pit (East) (SE 32-40-15-W5)
Nordegg Borrow Pit (West) (SW 32-40-15-W5)

Peppers Lake (NW 30-35-12-W5)
Phyllis Lake (NW 17-36-7-W5)
Rat Lake (SW 11-38-9-W5)
Rocky Children's Pond (SW 33-39-7-W5)
Shunda (Fish) Lake (SW 19-40-15-W5)
Strubel Lake (SW 30-37-7-W5)
Tay Lake (SW 5-36-8-W5)
Twin Lakes (SW 6-40-7-W5)
Winchell Lake (NW 2-29-5-W5)
Yellowhead Lake (SW 33-34-6-W5)

---
Eastern Slopes Zone - Watershed Unit ES3
Dandurand Lake (NE 9-53-19-W5)
Dunn Lake (NW 7-54-25-W5)
Emerald Lake (SW 5-62-11-W5)
Emerson Lakes (NW 6-55-21-W5)
Fairfax Lake (NW 17-46-18-W5)
Hinton F & G Pond (SW 28-50-25-W5)
Jarvis Creek Pond (NE 19-52-26-W5)
Kinky Lake (SE 6-50-26-W5)
Lambert Pond (NW 8-53-17-W5)
Mary Gregg Lake (NW 4-48-24-W5)
Mayan Lake (NW 5-57-23-W5)

Mcleod Lake (SE 25-61-12-W5)
Niton Lake (SE 32-53-12-W5)
Obed Lake (NE 11-53-22-W5)
Petite Lake (NW 12-54-26-W5)
Rainbow Lake (SE 10-57-22-W5)
South Sundance Lake (SE 1-55-21-W5)
Trapper Lake (SE 19-58-16-W5)
Whitecourt Town Pond (NE 35-59-12-W5)
Wildhorse Lakes (SW 31-49-26-W5)
Wildwood Pond (SW 30-53-9-W5)
Wolf Creek Pond (SW 13-53-16-W5)

---
Eastern Slopes Zone - Watershed Unit ES4
County Sportplex Pond (NW 14-72-6-W6)
Dollar Lakes (NW 8-73-21-W5)
Dollar Lakes (SE 18-73-21-W5)
Fox Creek Trout Pond (NW 13-63-20-W5)
Highway 40 Pond (SW 12-69-6-W6)
Kakut Lake (SW 34-76-4-W6)
Kakut Pond (NE 27-76-4-W6)

Muskoseepi Pond (SE 26-71-6-W6)
Pierre Greys Lakes (NW 6-57-4-W6)
Pierre Greys Lakes (SE 12-57-5-W6)
Spring Lake (NE 23-75-11-W6)
Swan Lake (SW 18-70-25-W5)
Two Lakes (NE 20-62-12-W6)
Valleyview Children's Pond (NE 21-70-22-W5)

---
Parkland Prairie Zone - Watershed Unit PP1
Bow City East Ponds (NE 15-17-17-W4)
Brooks Aquaduct Pond (NE 15-18-14-W4)
Cavan Lake (SW 30-11-3-W4)
Echo Dale Regional Park Pond (SE 5-13-6-W4)
Emerson Lake (SW 5-19-28-W4)
Enchant Pond (NW 8-14-18-W4)
Foremost Reservoir (NW 17-6-11-W4)
Goldspring Park Pond (NE 6-2-15-W4)
Keenex Trout Pond (NW 10-11-24-W4)

Magrath Childrens Pond (SW 26-5-22-W4)
Mcquillan Reservoir (SW 13-8-19-W4)
Mcvinnie Reservoir (SW 33-12-21-W4)
Nicholas Sheran Park Pond (SE 26-8-22-W4)
Riverstone Pond (SW 24-8-22-W4)
Spring Coulee Park Pond (NE 12-5-24-W4)
Stirling Children's Pond (SW 29-6-19-W4)
Strathmore Children's Pond (SW 14-24-25-W4)
Taber Trout Pond (NW 1-10-17-W4)

---
Parkland Prairie Zone - Watershed Unit PP2
Acadia Valley Reservoir (SW 5-25-2-W4)
Anderson Dam (SW 25-28-21-W4)
Ashland Reservoir (NW 17-48-3-W5)
Bashaw Pond (SE 4-42-21-W4)
Beaumont Pond (NW 27-50-24-W4)
Black Nugget Mine Pit (NW 11-49-18-W4)
Bud Miller Park Pond (NE 26-49-1-W4)
By The Lake Park (SW 22-46-24-W4)
Captain Eyre Lake (NW 30-38-5-W4)
Cardiff Park Pond (SW 24-55-25-W4)
Castaway Trout Pond (NE 35-47-13-W4)
Castor Eastside Trout Pond (SE 34-37-14-W4)
Chickakoo Lake (SW 34-53-1-W5)
Cipperley's Reservoir (SW 8-32-1-W5)
Claude N. Brennan Memorial Pond (NE 36-50-7-W4)
Coronation Reservoir (SW 24-36-11-W4)
Daysland Pond (NE 9-45-16-W4)
Dillberry Lake (NE 36-41-1-W4)
Diplomat Mine Pond (NW 1-41-16-W4)
East Pit Lake (SE 23-53-4-W5)
East Stormwater Pond (SE 29-40-26-W4)
Fyten Reservoir (NW 4-30-24-W4)
Genesee Trout Pond (NW 1-51-3-W5)
Gibbons Pond (NE 10-56-23-W4)
Gooseberry Park Pond (NE 22-36-6-W4)
Hansen's Reservoir (SW 29-38-3-W5)
Helmer Reservoir (SW 18-31-14-W4)
Heritage Lake (NW 33-55-25-W4)
Hiller's Reservoir (SE 13-32-29-W4)
Huber Reservoir (SW 36-37-13-W4)
Innisfree Trout Pond (SE 13-51-12-W4)
Irma Fish And Game Pond (SW 34-45-9-W4)
Jack Fish Lake (NW 20-53-9-W4)
Kraft Wimborne Pond (SE 28-33-26-W4)
Kramer Pond (SW 25-45-6-W5)
Lacombe Park Pond (NW 5-54-25-W4)

Lamont Pond (SW 27-55-19-W4)
Leduc Reservoir (NE 27-49-25-W4)
Len Thompson Pond (NW 29-40-26-W4)
Lougheed Trout Pond (NE 33-43-11-W4)
Mclaren's Reservoir (SW 23-33-18-W4)
Michichi Reservoir (SW 19-30-18-W4)
Midway Reservoir (SE 16-30-27-W4)
Mirror Reservoir (SW 29-40-22-W4)
Mitchell Pond (NW 18-38-27-W4)
Morinville Fish And Game Pond (NW 4-56-25-W4)
Mound Red Reservoir (NW 11-45-28-W4)
Niemela Reservoir (SE 1-39-3-W5)
Nuggent Pond (SE 14-44-3-W5)
Oyen (Concrete Plant) Pond (NW 34-27-4-W4)
Oyen Reservoir (NE 33-30-4-W4)
Open Ck Reservoir (25-42-6-W5)
Parlby Reservoir (NE 25-40-24-W4)
Pleasure Island Reservoir (SW 20-46-19-W4)
Ponoka Centennial Park Pond (NE 5-43-25-W4)
Pro Alta Pond (SE 18-39-2-W4)
Salter's Lake (SW 26-54-2-W5)
Sardine Lake (SW 5-49-4-W5)
Sauer Lake (NE 28-53-1-W5)
Severn Creek Reservoir (NW 12-26-22-W4)
Shuster Lake (NE 26-43-5-W4)
Spring Lake (SW 30-52-1-W5)
Star Lake (NE 19-52-2-W5)
Telegraph Park Pond (NW 32-48-21-W4)
Two Hills Pond (SW 32-54-12-W4)
Vegreville Children's Pond (NW 17-52-14-W4)
Vegreville Trout Pond (SW 7-52-14-W4)
Wallace Park Pond (NE 31-44-6-W4)
West Rivers Edge Pond (NE 23-54-23-W4)
Wetaskiwin Pond (NE 24-46-24-W4)
Windsor Lake (SW 10-42-22-W4)

---
Northern Boreal Zone - Watershed Unit NB1
Ardmore Community Pond (NW 1-62-4-W4)
Bellis Beach Lake (SE 15-59-15-W4)
Bonnyville Town Pond (NW 7-61-5-W4)
Boyle Pond (NE 16-64-19-W4)
Chatwin Lake (NE 4-61-6-W4)
Lac Delorme (SE 5-57-8-W4)
Lac La Biche Trout Pond (NW 5-67-13-W4)
Lara Fish Pond (NE 25-61-5-W4)

Legal Reservoir (NW 24-57-25-W4)
Little Bear Lake (NW 19-64-2-W4)
Medley River (SE 11-65-2-W4)
Mile 07 Lake (NE 35-69-14-W4)
Radway Fish Pond (SE 31-58-20-W4)
Rainbow Park Pond (NE 31-59-25-W4)
Shemeluk Lake (SW 25-60-17-W4)
St. Paul Fish Pond (SE 9-58-9-W4)

---
Northern Boreal Zone - Watershed Unit NB2
Atlantic Richfield Reservoir (NE 29-67-9-W5)
Blue Lake (NW 13-69-17-W5)
Chrystina Lake (NW 8-67-8-W5)
Edith Lake (NE 13-67-10-W5)
Marigold Lake (NW 32-65-11-W5)

Mcclennan Reservoir (SW 32-77-19-W5)
Parker Lake (SE 25-70-5-W5)
Peanut Lake (NE 15-58-3-W5)
Tamarack Lake (NE 10-66-12-W5)

---
Northern Boreal Zone - Watershed Unit NB3
Cecil Thompson Pond (SW 23-83-21-W5)
Fairview College Pond (SW 34-81-3-W6)
Figure Eight Lake (NE 20-84-25-W5)
Footner Pond (SE 5-111-19-W5)
High Level Community Park Pond (SE 6-110-19-W5)
Highway 686 Pond (NE 17-85-19-W5)
La Crete Pond (SW 15-106-12-W5)
Machesis Lake (NW 27-107-16-W5)
Md Peace Pond #1 (SW 27-83-23-W5)
Md Peace Pond #2 (SW 27-83-23-W5)

Montaganeusse Lake (NE 31-86-3-W6)
Moonshine Lake (SE 31-79-8-W6)
Nardam Lake (NE 17-78-5-W6)
Ole Lake (NW 30-84-12-W6)
Rainbow Lake Pond (NE 25-109-9-W6)
Running Lake (SW 34-88-7-W6)
Shell True North Pond (SW 10-79-8-W6)
Sulphur Lake (NW 7-89-2-W6)
Weberville Pond (NW 7-85-21-W5)
Zama Community Pond (SW 18-117-4-W6)

---
Northern Boreal Zone - Watershed Unit NB4
Engstrom Lake (SE 17-83-6-W4)
Highway 63 Pond (NE 35-87-9-W4)

Texaco East Pond (NW 15-88-8-W4)
Texaco Pond (SW 17-88-8-W4)